La bellezza è negli occhi di chi guarda
Die Schönheit liegt im Auge des Betrachters
Beauty is in the eye of the beholder
*****************************************************************************************************
Der nächste Kurs der Arbeitsgemeinschaft BELLIS in den Karawanken (A), in Zusammenarbeit mit Jan Albert Rispens, BELLIS, und Sonja Schürger, Europäische Akademie für Landschaftskultur PETRARCA.
Weiterführende Links:
– www.anthrobotanik.eu
– https://www.landschaftsgarten.net/seminarwoche-karawanken-2018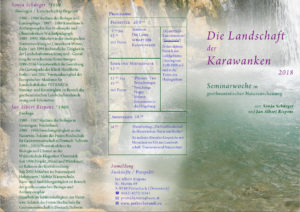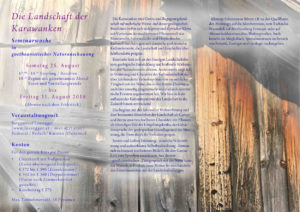 ******************************************************************************************************
Come membro di Accademia Europea per la cultura del paesaggio PETRARCA e coordinatrice di corsi, ho avuto il piacere di assistere a una tappa del progetto intereuropeo "EuropeTour" al Monastero di Sant'Andrea e del Sacro Cuore di Fonte Avellana, Serra Sant'Abbondio (PU), Marche, insieme alla Comunità monastica e il team dei partners intereuropei.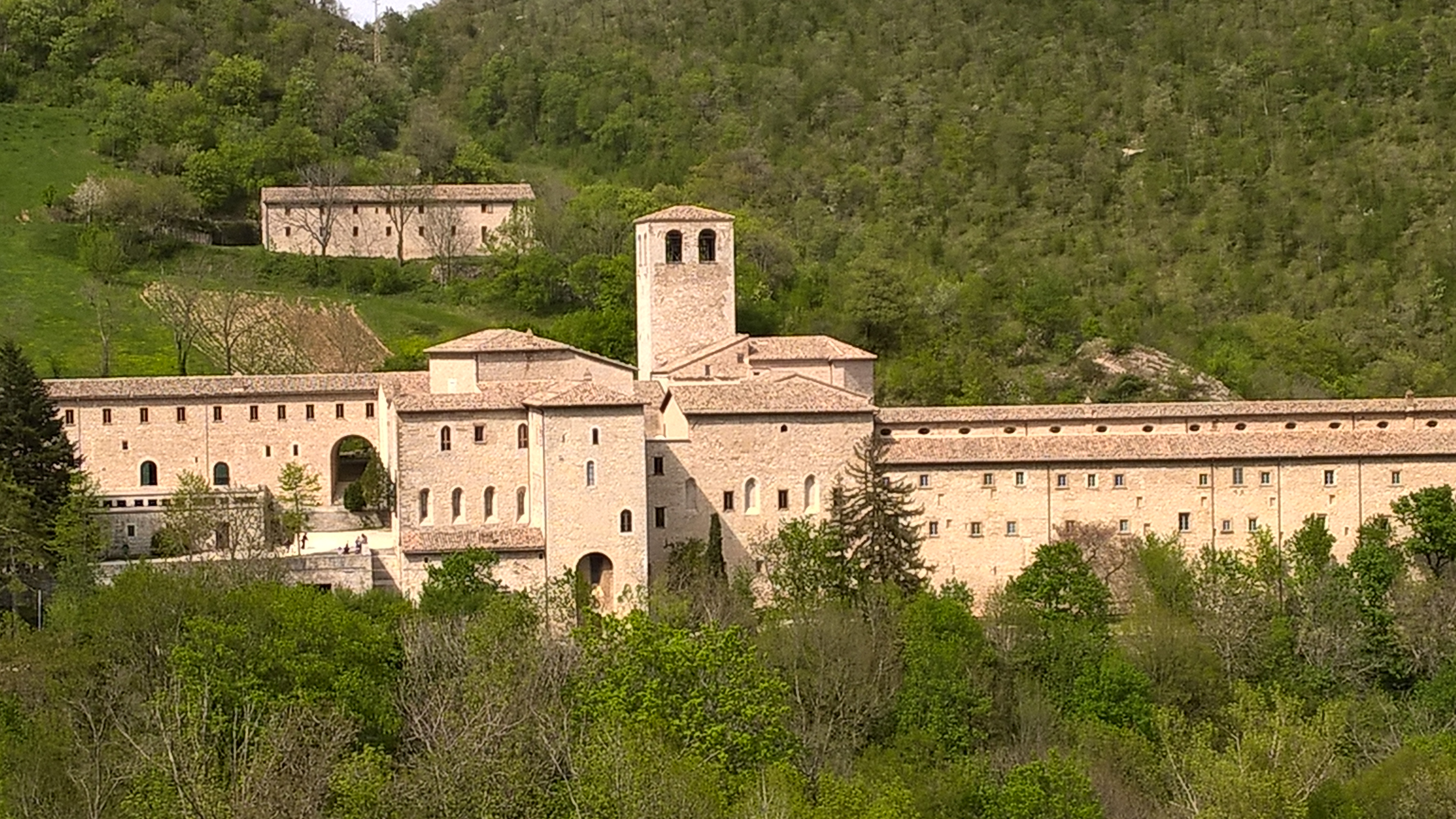 Riuniti nello splendido Scriptorium e, successivamente, nel Giardino Botanico, ammirando l'esemplare secolare di Taxus baccata L., si è parlato di accoglienza, paesaggio, turismo spirituale, conservazione ambientale e innovazione. In mezzo pomeriggio soltanto – il tempo è volato – i parnters intereuropei hanno saputo apprezzare le varie aree del monastero, in un clima di dialogo e collaborazione. Sono subito nate nuove sinergie – un'esperienza stimolante!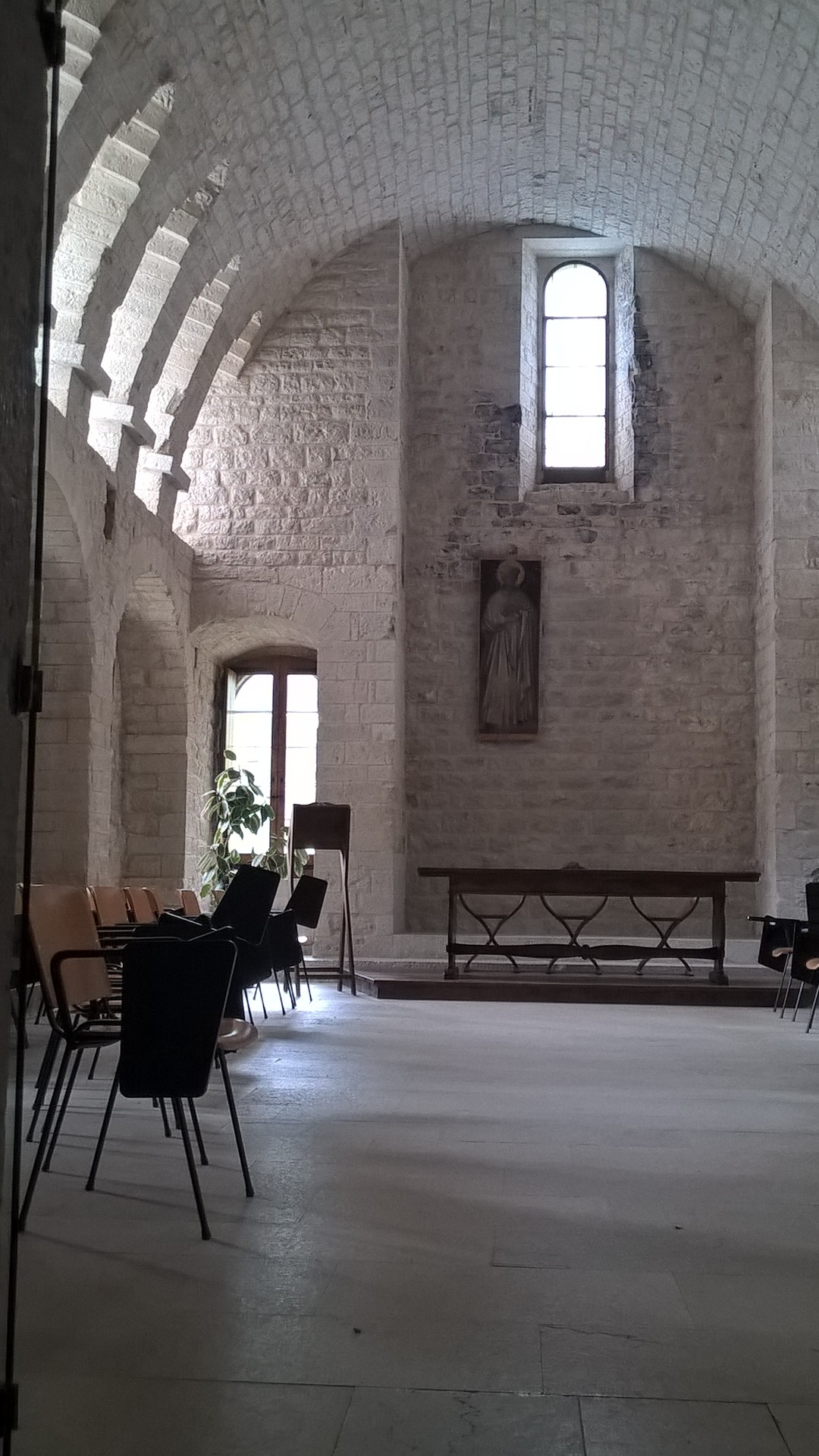 Il progetto è cofinanziato dalla Unione Europea ed è coordinato nelle Marche dai collaboratori dell'Ufficio Urbanistica Paesaggio e Informazioni Territoriali, Regione Marche.
---
---
---
"Developing living landscapes"
Laurens Bockemühl, coordinator PETRARCA
Grown up in the bordering area between Switzerland, Germany and France I was fascinated by passing landscape limits. The immediate change of the landscapes while stepping over the border between two states is a really astonishing experience. There is something different appearing, a new and quite specific impression, although there are only a few meters separating both sides of the border. This character of the landscape can be experienced as a whole but it is very hard to keep hold of this wholeness in a conscious way or to describe it afterwards in words. How can I recognize the special character of the Sundgau in the southern Alsace (FR) by contrast to the neighbouring landscape at the edge of the Jura in Switzerland?
Since my youth I was very much interested in landscapes, their variety, variability, contrasts and their relationship with each other. I wanted to learn to discover and understand landscapes. Therefore I chose the geography for my studies. I wanted to study how a landscape develops taking into account the interplay of the climate with the movements in the earth, the rocks, the water cycle and the plant cover showing a permanent change during time. While the basic character of a landscape can be described quite well using the listed, rather immovable, well visible landscape elements, it is much more mysterious to discover the role of the animals and their meaning in a given landscape. What kind of environment did they create? Which facets of the landscape do they point out to us?
Back to the phenomenon described at the beginning when passing a border which was drawn in this landscape by people "artificially". We are able to recognize nearly at once somehow the spirit of the culture living at a certain place. This experience is similar to the first impression we have when we meet somebody for the first time. The consciousness of this first image becomes blurred easily again the more we go into the landscape and the more we become a part of it. Actually only in a second step details can be described as parts of this image – starting out from the things the people living there created, how they are cultivating, building and acting in their environment.
In the last twenty years of my professional life, it was my task to describe and assess particularly the effects of infrastructure projects like streets, tracks, power stations and power lines etc. on nature and environment. Out of the forecast of the possible impacts on the environment, suggestions had to be made how to keep the landscape damages as low as possible.
This turns out quite well if we consider scientifically each component of nature separately. We can describe the effects of the road construction on the grounds, on the water balance, the vegetation and also increasingly well regarding the effects on habitats of animal species. However for me dealing with the landscape as a whole remains unsatisfactorily. It is a task fixed even by law in Germany to protect the peculiarity, variety and beauty of the landscape. Convincing instruments for this task still aren't available. On the contrary the degradation of nature and landscapes are still progressing. How can we really protect the living development of the landscapes?
In the last decades the technical instruments to visualize and make thus conceivable landscape changes caused by human impacts had impressively increased. Unfortunately these had not led to really convincing methods to measure or qualify the impact on the landscape. In the end landscape quality remains reduced to a matter of taste: I like it or I don't like it or I learn to like it the more I get used to it. It seems to me that we had to go deeper to be really capable to judge whether our interaction with the landscape is coherent, healthy and in complete connection to the living landscape or not.
In my opinion it is our task to develop our relationship to the landscape and our planning methods further so that we can find the criteria for our actions in the landscape in a creative way out of the deep experience of the special character of the place including his past, the geographical situation and the people living here. This kind of landscape design could lead us to a new landscape culture.
The ideal would be to gather everyone who's linked to the place in a real participatory planning process. This process could be carried out in several steps. Firstly – and this seems to me undervalued in usual planning processes – everybody is trying to get in direct contact with the landscape, to observe and experience the special qualities of the given place and then share the results together. This leads to get a common and diverse image of the individual character of the place. Only after this step the outline of the planning would be worked out jointly and out of the consciousness of our concrete relationship to this landscape. The experts like engineers would bring in their technical knowledge and combine it creatively and with artistic imagination with the individuality of the place.
Occasionally such processes already take place but it is still a dream which still should be often dreamt to get true to conclude!
Laurens Bockemühl (maîtrise de géographie)
Landscape planner, Froelich & Sporbeck GmbH+CO KG
Co-ordinator of the European Academy for the Culture of Landscape P E T R A R C A
Member of the board of CIVILSCAPE
(see also http://www.catpaisatge.net/eng/butlleti/index.php?codi=471&idioma=eng)
P E T R A R C A und sein Landschaftserleben am Mont Ventoux
Der italienische Dichter und als Vater des Humanismus bezeichnete Francesco Petrarca (1304-1374) brach am 26. April 1335 auf, um den Mont Ventoux, einen 1912 hohen Gebirgsruecken der suedfranzoesischen Voralpen, zu besteigen, "einzig getrieben von der Begierde, die ungewoehnliche Hoehe eines Ortes in unmittelbarer Anschauung kennenzulernen". In seinem Brief an den Augustiner-Moench Dionigi da Borgo San Sepolcro schildert er seinen Aufstieg und versucht, das Unternommene durch den Vergleich mit der Erhebung zum seligen Leben zu deuten, hoffend, im Anblick der grossen Natur ringsum "liebend Gott vergegenzuwaertigen". Seine Neugier, seine Wissensdurst stößt sich an der mittelalterlichen Weltanschauung, welche Natur und Mensch streng trennte und alles Natürliche als Dämonenhaft verurteilte. Mit Petrarcas literarischen Schilderungen wird erstmals ein Erlebnis verbrieft, in dem ein Mensch die Natur als Ganzes, als sinnlich sichtbare Landschaft und Spiegel der eigenen Seele erfahren wird. In diesem Sinne fordert Francesco Petrarcas Brief den heutigen Menschen auf, die Natur bewusst in der Landschaft wahrzunehmen.